At 8:30 this morning, Mark came into my room and started to slowly slide my pillow out from under my head. I opened my eyes groggily to find his cute, excited face a foot away from mine. "The parade starts at nine Hannah!"
"Okay." I smiled and rolled over, allowing myself to have a few more minutes of sleep before going downstairs.
The minutes ticked by. I slept. The clock struck 8:45 and I rolled out of bed, grabbed a huge blanket, and walked downstairs to find a nice squishy couch that was empty and just begging to be curled up on. I tangled myself up in the blanket and collapsed for a few dreamy moments, hearing clinks in the kitchen and a hyper nine-year-old boy voice.
In a few minutes, the living room was filled up with six people, lots of cinnamon rolls and sounds from Broadway musicals such as "How to Succeed in Business Without Really Trying" and "Sister Act". The parade was on.
My favorite act by far was the "how to succeed in business without really trying" one, who knew Daniel Radcliff could dance and lip-sync so well?
The holiday season has officially started.
I love thanksgiving. Here's what I'm thankful for:
1. art
because you can express yourself
2. books
because you can visit another world
3. cameras
because they capture moments
4. dreams
because they are inspirational
5. eyes
because they are the window to the soul
6. family
because I love mine
7. good times
because they are our best memories
8. hot cocoa
because I love chocolate
9. ice cream
because it is just so good
10. jokes
because they make me laugh
11. kids
because they also make me laugh
12. laughter
because it brings joy
13. makeup
because it is art
14. nikon
because they make cameras
15. oreos
because they are just
that
awesome
16. photography
because I just love it
17. quiet
because it brings peace
18. raw veggies
because they are healthy+delicious
19. snail mail
because who doesn't love getting letters?
20. teachers
because they teach us
21. umbrellas
because they are
amazing
22. vacation
because everyone needs a break sometime
23. water
because it is enchanting
24. x
-2+3(7x-5)=11+2(x-3)+14
because algebra rocks
25. you
because you are here, and therefore, you make me happy
26. zzzzzzzzzzzzzzzzzzz's
because I appreciate sleep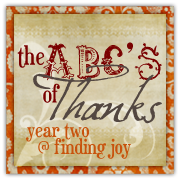 continue reading after the jump for a makeup tutorial!
Makeup Tutorial:
T
hanksgiving
C
heer
Products used:
Revlon Cream Shadow
Madison Street Beauty Shadow in Golden Peach
Madison Street Beauty Shadow in Gold Leaf
Madison Street Beauty Shadow in Galaxy
wet n wild color icon eyeliner in dark brown
rue 21 jumbo eyeliner in silver
Maybelline Great Lash Mascara in Black-Brown
step 1: prime your top and bottom lids
step 2: sweep peach-y shadow on your whole lid
step 3: line upper and lower lashlines with golden shadow
step 4: dust a dark mauve color into your crease
step 5: line your waterline with brown liner
step 6: highlight your inner corner and apply mascara to top and bottom lashes
done!
happy Thanksgiving! What are you thankful for?
-hannah
p.s. as always, leave a request for future makeup tutorials in a comment!