Okay first off, let me say how adorable
everything
is in
Stephanie's shop
. I love it all :)
But let's move on:
When Stephanie generously sent me one of her products to review I was
extremely
excited. When I opened the package, this is what I saw: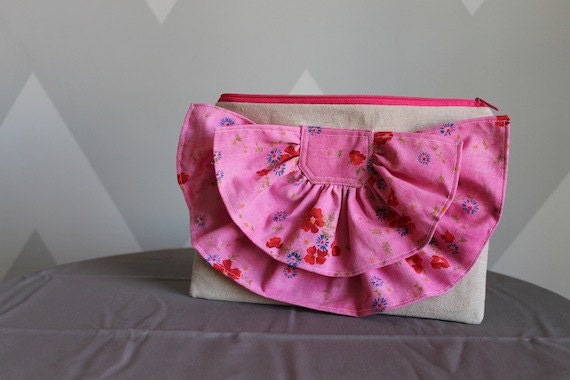 This is the
Vintage Ruffle Clutch in Pretty Pink
. Wowza! So. cute. Here's what the listing description says:
Quite the catch!
If the vintage fabric isn't cute enough, the ruffles sure are!
This clutch is the perfect size to hold the necessities with room to hold a little more!
Also has a single pocket on the inside to hold something more near and dear, i.e. your cell phone!
Clutch has reinforced stitching throughout and is sewn with heavyweight fusable interfacing for added support.
Measures approximately:
6.75 inches deep
10 inches wide
Here are my opinions:
Versatility:
This product is fabulous for just about anything, but for the past week I've been using it to tote around my makeup at school. It's really convenient because it has a little pouch inside so you can sort certain things.
This can be used as a pencil case, toiletry bag, makeup bag, or anything else that you can think of!
Quality:
The quality of this is amazing. After 6-7 days of being tossed, dropped, bumped, crushed, stepped on, sat on, squashed, squished, and other unpleasant things, it is still in perfect condition, both on the inside and out. (Okay, maybe it didn't endure all those things, but it definitely was squished and squashed a couple times ;])
Compatibility:
This is larger than a regular clutch, so you may have trouble fitting it in you backpack/school bag, but it fits fine in mine, so you shouldn't have too much trouble with it. I actually find the size very handy, because you can even squeeze a pair of flats inside!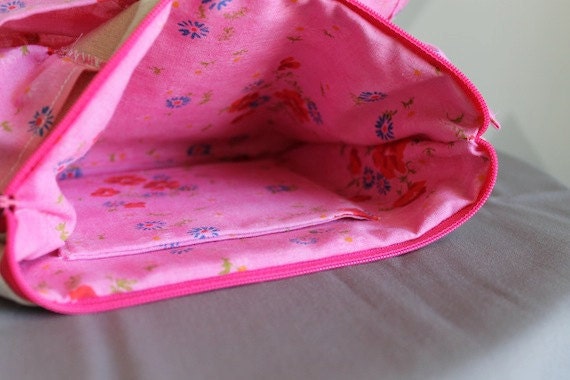 Guess what? One of YOU will win a vintage ruffle clutch of you choice!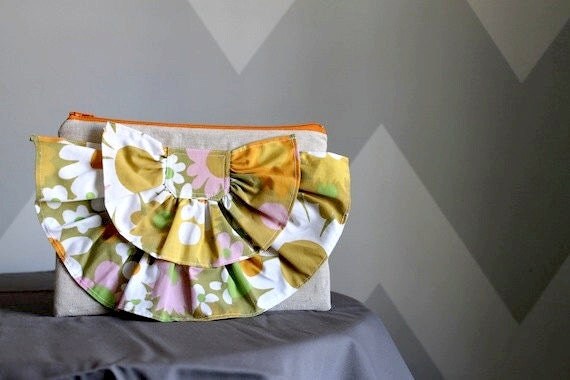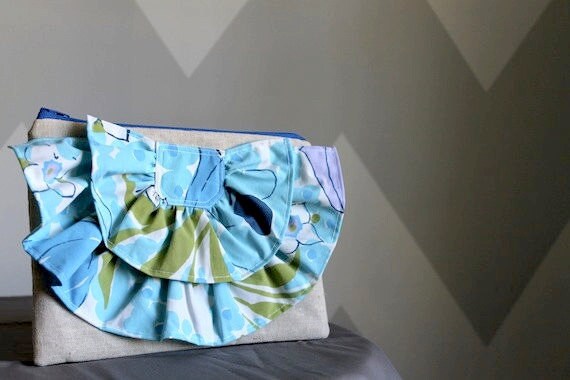 Exciting right? Right! But first, let's get to know the wonderful Stephanie:
When did you first begin crafting?
As long as I can remember, I've been crafting. As a little girl I would take nail polish and paint wooden letters, or make garlands, or save the SOBE bottle caps and glue them around the edge of my mirror. But it wasn't until we moved into our house that I finally was able to put my creative crafty mind juices to work and I directed them more towards making our house feel like our home.
What is your favorite thing to make?
Such a tough question... I don't consider myself a pro by any means in the sewing world but I really love making my vintage ruffle bags. I use my pink one practically every day and I still feel as giddy and excited about it as I did the first time I threw it over my shoulder. I dyed the vintage sheet pink, and that was a first for me. I've never dyed anything! But the color that it came out as was the exact shade of pink I wanted and it took my heart away!
What are some of your other hobbies?
I love spending time in my flower and vegetable gardens. Seeing something grow and blossom into this beautiful flower or delicious vegetable makes me so excited! I love scattering bouquets around the house. Beauty everywhere! I'm also a huge fan of the beach. I can go and lay out for hours and hours and just listen to music or dream up new things to make. Taking the kayak out for a bit around the pier is always fun too. Seeing schools of fish swimming right under me, pelicans floating 10 feet away, dolphins out further... it is never something that I take for granted. There's beauty in life all around us and I love being able to really enjoy it all.
Thank you so much Stephanie! Okay, so here's how you can win:
Mandatory entries
(leave both of these in the same comment!!):
You must be a follower of my blog to enter and comment to tell me you are
and
you must go to Sand and Starfish and tell me which vintage ruffle clutch you would pick if you won
Extra entries:
"heart" Stephanie's shop
follow Stephanie's blog
Like Stephanie on Facebook
"heart"
my etsy shop
That's it people! You've heard me rave about this product, so you know it must be pretty dang amazing!
Happy entering! Oh, and don't forget to enter the
rouge and whimsy giveaway!!
Entries for that giveaway giveaway are closed on Saturday February 5th!!
Entries for
this
giveaway close on Saturday February 12th!!
-hannah